A group of women and staff from Nottingham Women's Centre travelled to London on 26th June for a 'Mass Lobby of Parliament', which was organised by the national charity 'Women in Prison'. Representatives from 20+ women's centres from across England and Wales traveled to London to meet their MPs to highlight the important work that women's centres do with women on probation. We had an empowering day; meeting women and sharing our knowledge and experiences of the criminal justice system.
Nottingham Women's Centre is the largest women's centre in the country and we work with around 180 women each year while they're on probation to break the cycle of offending and empower them to make positive choices for themselves and their families.
We met with our MP Lilian Greenwood in Houses of Parliament to share our stories and talk about our 'Changes Programme'. Based on our experience working with women on probation, we told Lilian that;
Custody is damaging for women and their families, everyone benefits if women are given community sentences not prison sentences.
We need a 'whole system approach' that deals with root causes of offending.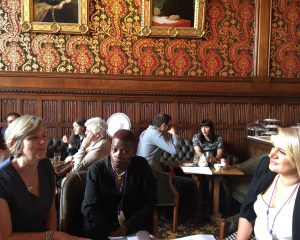 We also asked the £80m that HM Treasury has received from the sale of Holloway Prison (London) to be spent on delivering the Ministry of Justice's strategy on female offending particularly through investment in Women's Centres.
Lilian was very perceptive to our calls for change and pledged to;
Hold the government to account for delivery to the Ministry of Justice Women's Strategy (entitled the Female Offenders Strategy) speaking up in the Parliament and championing the work of women's centres and other community-based support.
Write or speak to the Treasurer asking for the £80 million from the sale of Holloway Prison to be used for the successful delivery of the Ministry of Justice Women's Strategy and investments in women's centres and community-based support services
Lobby for a debate to be held in parliament entitled 'the female offenders strategy – one year on'.
Lilian visited the women's centre last International Women's Day, but we invited her to visit again to see our 'Changes Programme' in action.  We hope to welcome Lilian back to the women's centre soon!
An interview with Michelle – one of the lobby participants
It was an honour to join the Women's Centre on 26 June to Lobby MP Lilian Greenwood at the House of Parliament.
The Women's Centre runs the interesting and invaluable Changes Programme in partnership with Probation;  the programme aims to keep women offenders out of prison by offering a series of personal development rehabilitative courses in the community.
On 26th June I traveled with three other women, to London; we were part of a mass lobby   organised by Women in Prison to ask MPs to support the move for more non-serious women offenders  to be rehabilitated in the community. 
What you enjoyed most about the day?
I really enjoyed the day – the camaraderie on the day was quite admirable.  I was glad that I did not miss this important trip to Parliament – which I almost did, as I ran all the way from the car park to the train and got onto the train with 1 minute to spare!  On the way down, Anna, Rachel, Julia and I discussed what would happen on the day, and what we would do when we met Lilian Greenwood MP.
London was buzzing…as usual. I enjoyed walking to the House of Parliament, seeing all the various groups demonstrating about climate change and the environment, Brexit, and London cab drivers demonstrating against Transport for London policies.  
It was an honour to meet Lilian Greenwood MP who was very sharp, attentive, supportive and hospitable – tea in the house of Parliament…well what more could you ask for?
What you enjoyed least?
I thoroughly  enjoyed the day out, there was nothing to complain about. ( I definitely won't take my high heel shoes again, as I spent the majority of the time lugging them around in the lovely Women's Centre perks bag!)
What was the most important message you took away from the day?
If you believe in a cause, organise, raise awareness and get politicians on board – you can make a difference!
Back ground information about women, prison and Nottingham
Last year, Prison inspectors highlighted "significant concerns" about conditions in prison for women in Nottingham.
The charity Prison Reform Trust has said strip-searching was known to traumatise female inmates who had experienced physical or sexual abuse.
There's a link between trauma, gendered violence and offending, which we help women to address break out of the cycle; around 80% of the women referred to Nottingham Women's Centre through Probation are survivors of domestic violence and abuse. We can signpost to specialist services and offer a healing environment.
In June 2019, the Office for National Statistics found that Nottingham has the UK's lowest gross disposable household income, making it the 'poorest' city in UK. There's a link between poverty and offending, which we help to address.In 2018, our Welfare Advisor recovered £22,303 in lost benefits for women on Changes Programme.