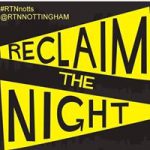 A free, safe, women*-only fun night out for a good cause. What's not to like?
Reclaim the night, Nottingham's biggest and loudest annual grassroots protest against all forms of violence against women and girls is happening on November the 18th.
This is a women-only protest, Reclaim the Night will stomp, sing, dance and shout its way from Forest Recreation Ground to Market square. The event will end with a Reclaim Rally at the Council House steps with women-only speakers celebrating and supporting women's self-organised action against violence. After the rally, women are welcome at Nottingham Women's Centre to get warm, have a bite to eat and socialise at the after party.
There are many ways for you to get involved
Banner making at the Women's Centre – 25 Oct 1-4, 8 Nov 1-3, 14 Nov 5-7. Just drop in.
Volunteer for stewarding, banner making or helping at the after party. If you are interested, please contact

[email protected]
Meet at 6.30pm outside Forest Rec Pavilion. There will be escorts from the forest tram stop and Mansfield road bus stop. OR meet at 6pm at the Women's Centre to walk up with a group. Please sign up using the Facebook event to give us an idea of how many to expect on the march. But you can just turn up too.
Meet at the council house steps about 8pm. The rally will celebrate and support women's self-organised action against violence.
Food, warmth and a sit down from 8.30pm at the Women's Centre.
If men wish to join us at the rally, we ask that they maintain a respectful distance at the back. Supportive men/those that self-identify as men are organising a solidarity vigil elsewhere in the City Centre. Gather at 7pm outside the church in St Peter's Square.
*All self-identifying women welcome
Accompanied children of all genders are welcome.
Nottingham Women's Centre is at
30 Chaucer Street, NG1 5LP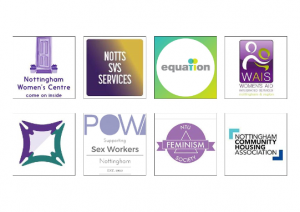 ---