30 Chaucer Street is a stunning building which was built in 1897 as a school for the Blind and to house the work of Nottinghamshire's oldest charity, MySight Notts (then known as the Royal Midland Institution).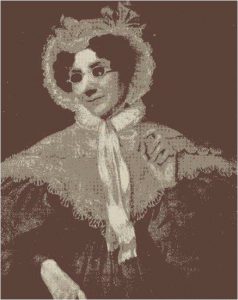 Mary Chambers, who founded the charity in 1843, was the first of many remarkable women to walk through the doors of our building. Despite her gender and disability which posed many challenges at the time, Mary was able to obtain a classical education in early Victorian society and set up the charity to help others who were blind or partially sighted.
Chaucer Street had accommodation for 40 visually impaired boarders who were taught skills in basket making, brush making and hand loom knitting. In 1888 a gymnasium was added and during the First World War the charity was comissioned to make baskets to transport munitions to the Front.
The Second World War saw a shift in attitudes towards people with visual impairments and due to a shortage of sighted workers, they were recruited to work in mainstream industries. This meant the large workshops at Chaucer Street were no longer needed and the charity moved out.
The Women's Centre moved in in 1987 and have been proud to call it home for over 30 years. Every older woman I speak to has a story about the place – of how it was renovated by a team of local trades women and volunteer helpers, how the Police used to be called to quieten down the raucous parties and how women with nowhere to stay curled up on a sofa for a safe nights sleep. It's served us and the other charities who have been based here, currently WAIS and NSVSS, well but we've outgrown it and need somewhere that will see us through the next 30 years.
We are starting to look at what is available and
want to hear your views on the aspects of any new premises that are most important to you.
There are some things that are a given. It will be a women-only space, it will be in the city centre, it will be accessible for women with disabilities. If you want to have your say please complete the
short online survey
or pick up a paper copy in the Centre. This is only the first chance to get involved, as we get further down the line there will be plenty of opportunities for you to help shape what the inside looks like.
Photo: Mary Chambers
---