Under the Communities of Identity Project funded by Nottingham City Council we are able to distribute a number of small grants each year. One of our partner recipients is TRANS4ME. Here is some information and feedback from them.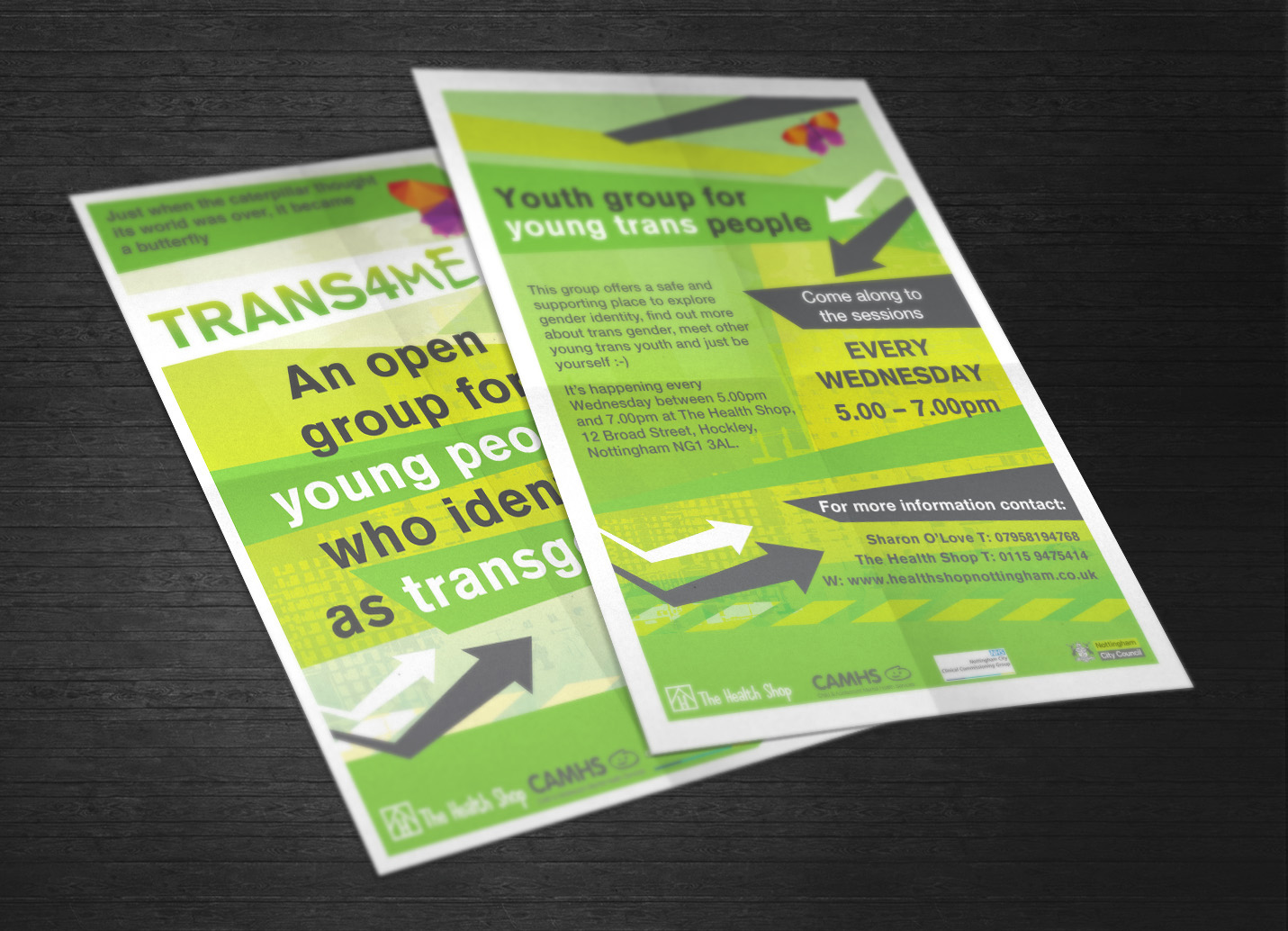 TRANS4ME is a weekly group specifically for young people age 13 – 21 years who identify as transgender, the group offers educational sessions, social activities, awareness raising, workshops from speakers, networking etc.
The funding we received was used to support the group's open evening on 14th December 2016 which was a huge success, some of the money has also paid for some activities as the group worked so hard on the open evening, a reward felt appropriate for them. Social activities are extremely important as a lot of the group struggle with issues such as generalised social anxiety, isolation, feeling excluded from society, low mood, self-harm and other behavioural difficulties. The funding also paid for a local photographer to do a photo-shoot; the images were displayed at the open evening, we also paid for a local artist (young person) to come in and create a painting which represents the group.
The group has a very positive dynamic and feel included in society, they also spend time together offering feedback for services such as CAMHS, they will be involved in a launch of a 'Young Person's Mental Health Passport' sometime this year, so there are plans for us to devise a short play which will profile their complex journeys of transition. The young people feel less isolated as this weekly group gives them a great space to build positive relationships.
'The group gives me a space to be ME'
'Trans4Me gives me something to look forward to…and gets me out'
'I love being with my friends at the group, I didn't have many before'
The group are quite busy with various projects – offering feedback on services, some involvement with local LGBT events, at Christmas last year we were given a pampering session from LUSH. The group read stories from the book they wrote 'In Different Shoes' at the Open Evening, the feedback was amazing from professionals and families alike. This funding has been a blessing as we do not get any other funding, some of the young people who attend the group come from distressed environments so being able to go out for a meal with the group or getting a £2.00 Christmas Selection box and a gift from LUSH (donation) really made them feel happy. I think it is important for us to continue to offer this weekly group, currently there are approximately 25 members. One of the group members was given a job with CAMHS – Young People's Advocacy Worker, they also have a high profile within the LGBT community, they facilitate the group and also support me in delivering Transgender training.

---