Whether you are a woman or a man, an individual or part of a community group, from a school or college, there are lots of ways that you can support Nottingham Women's Centre.  We offer our own events for you to take part in but you can also arrange your own. As a small local charity, we rely on the generosity and support of people like you to help us to keep our doors open.
For more information about how you can fundraise for us, download our Fundraising ideas starter pack.
We also have a selection of posters to get you started – use one of our posters or create your own:
Pub quiz poster and Pub quiz fundraiser
Most recent fundraising activities include:
Women United –  raised £1,551!!!  during their football tournament in memory of Tara Newbold…the money will be used to fund our therapeutic courses. We look forward to a lifelong partnership and friendship with this amazing, determined group.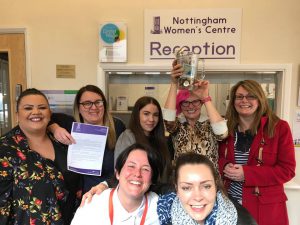 Women Got Talent at the Maze – an evening of fantastic stand up performances.
Elena – has raised £23 doing a bake sale at NTU. Her money will give a woman an hours worth of counselling. Thank you Elena!
UoN women's staff network and NTU women's network -held a fundraising bake sale on International Women's Day in aid of our centre.
They raised £195 which will help so many women that need our support.