Nottingham has an exciting range of events and activities planned for International Women's Day this year. These events are not just on the day itself (8 March) but in the weeks before and after so take a look below at what is on offer.
Check out our calendar here and let us know if you are planning an event and would like to be added to this list! 
Wednesday 8 March – International Women's Day!
Nottingham Muslim Women's Network event. Entertainment, Stalls, Guest speakers and Therapies. All women welcome. 9.30am – 2pm Muslim Hands – Gregory Boulevard. Booking required.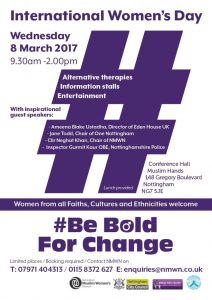 The Farr Centre – Inspirational Speaker Maggie Stubbs In

Worksop

From 10am to 12noon. Free

Women only

Event.
Nottingham Women's Centre 11am – 2pm. With a Cake stall, Drumming workshops, Guest speakers, Treatments, Dancing and lots of other great activities. Also including a guest talk from Amnesty International at 11am on current international womens rights. All women welcome! 
Thursday 9 March
Equation Organisation -Tea and Fizz event £25 per ticket. http://www.equation.org.uk/fundraising/#afternoon-tea-and-fizz-in-honour-of-international-womens-day
Friday 10 March
Reel Equality Film Club and FAN CLUB team up for FREE Broadway cafebar women's takeover party and screening event. From 8pm to Late at The Broadway Cinema. Music and a FREE screening of the classic movie 9 to 5! Open to all.  https://www.facebook.com/events/224753047928657/
Saturday 11 March
Women's Culture Exchange event 12 noon – 4 pm at the New Art Exchange. Come and enjoy food, dancing, crafts and more.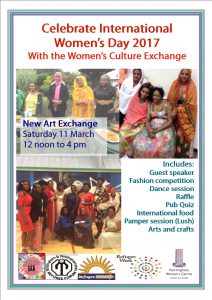 Monday 13 March
Chayah Development Project. International Women's Day celebration. With health and beauty treatments, international food, Live music and More. https://www.facebook.com/events/1807565196170026/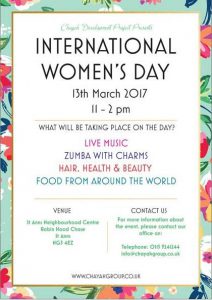 Saturday 18 March
Pakeeza Women Group With Asian Women's Project, Radio Faza & Bazme Adab. Musical Celebration Evening. From 3pm and the MCO Centre on Beaumont Street. Entry £3. Women only.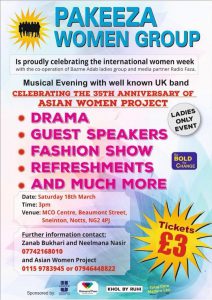 Sunday 19 March
Girls Make it Happen. Free sports and fitness activities and tasters. Carlton Leisure Centre From 2pm – 4pm https://www.facebook.com/events/428972990768028/
---