Women being involved in sport and being active can help to help defy gender stereotypes, build confidence and teach values of teamwork, self-reliance and resilience which can be great drivers for gender equality. Books are a fantastic way of telling of inspiring sporting achievements, of adventure, and accounts of personal hardships and struggles overcome through the medium of sport and being active. Despite this, books written by women in these areas are underrepresented.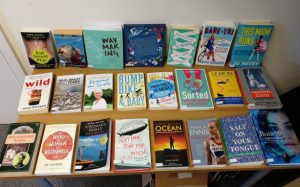 With the above in mind, we decided we wanted to try and raise the profile of these books. However, when we came to do a monthly focus on them, we found we had only 4 books that fitted these areas. As we are a donation library and do not have the funds to buy our own books, we decided to put a call out for donations. At the time of writing, since February 2019 we have gone from 4 to 27 books in these areas through the generosity of the public, publishers and authors themselves.
Due to the many positive messages of support, we decided we wanted to take this further. So, we compiled a list of books and are publishing it to see if people will support this endeavour further through buying us a book! The link can be found here. We intend to run an event surrounding these books as we would love to show off this wonderful selection so people can see and read about the amazing and inspiring things that women have accomplished. The list is not exhaustive, but all the books on this list are written and edited by women. This is because our library only holds work by female authors. We are aware that some books on women in sport are not on this list, but that is because they have been written or edited by men. We do not believe this makes them any less wonderful to read, but for the purpose and scope of this initiative, we would like to raise the profile of female authors.
The books brought do not have to be new, but if they are used, we ask that they are in a good condition! Please search our online catalogue if you want to see what we already have.
Our address is:
FAO Library Volunteers
Nottingham Women's Centre
30 Chaucer Street
Nottingham
NG1 5LP
You can connect with us through twitter: @nottswlibrary and email: [email protected]
More about the library can be found here.