Reclaim the Night Notts 2019
"My first reclaim the night! So Amazing, Empowering and it was so great to meet people with the same views!!! Wow so strong, sisterhood!!"
"Thanks for all the behind the scene and on the night hard work. Despite the rain, a fantastic atmosphere with sisters united!"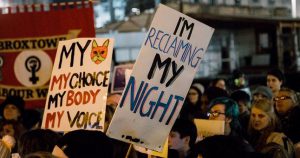 What happened?
In spite of the cold and wet weather, around 300 – 400 women* participated in Reclaim the Night Nottingham (RtN) and marched through central Nottingham to protest against gendered violence on Saturday 9th November. 71% of women who filled out the survey said it was their first ever RtN so we're clearly growing in numbers!
In the run-up to the march, Nottingham Contemporary ran a successful RtN banner-making workshop, providing materials and an artist facilitator for free. Plus the samba band Estrandosas ran an open drumming workshop so women could join the band resulting in 40+ women drummers joining the march, which created an exciting atmosphere and ensured we made an impact on the streets as people could hear us coming! We also ran a stewards' training workshop and featured on BBC Radio Nottingham.
We decided to use a new route this year, which was designed to maximise our impact and take advantage of the largely pedestrianised areas in town. The march started at Sneinton Market and a local café called Blend stayed open so marchers could gather inside, buy hot drinks and use their toilets. Women marched up through Hockley, along King Street and ended with a rally on Goldsmiths Street.
There were around 15 stewards on the night, working in two teams to block roads and ensure the safety of the march. The march went ahead as planned except for one serious hate crime incident against one of the RtN stewards. The incident has been reported to Nottinghamshire Police and they are following it up with an investigation.
At the rally on Goldsmith Street, five local feminists spoke about campaigns including Pro-Choice Nottingham and No More Page 3, and the Women's Voices choir sang a few songs. A sound system and marquee were provide free of charge by Nottingham & Mansfield Trades Council and Veggies Campaign group.
The rally was followed by an after-party at Nottingham Women's Centre (NWC) with hot vegan food made and served by NWC volunteers and live performances coordinated by local feminist group S.A.N.E Sisters. The party went on until 11pm. There was an impressive group effort to ensure the building was left as clean and tidy as possible. Around 200 women attended the after-party.
*all self-identifying women are welcome. Reclaim the Night is trans-inclusive.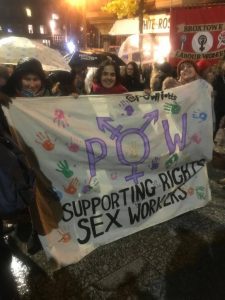 Organising committee 
RtN was coordinated by Sexual Violence and Domestic Violence Campaigns group, which is primarily made up of representatives from Nottingham Women's Centre, Juno Women's Aid, Notts SVSS and Equation.  The Representation and Policy officer from the women's centre was the main coordinator this year.
Feedback from survey and social media
We've had extremely positive feedback over social media and through an online feedback survey. We've picked out the main themes:
What worked well?
Women liked the new route as it felt more embedded in the city
There was lots of positive feedback about the samba band – women enjoyed participating and marching with them
Women said they were happy with the stewarding and the number of stewards
There was lots of positive feedback about the after-party food and performers
It was great that Nottingham Post covered the march for the first time in a number of year
Women in wheelchairs being at the front of the march
Issues or problems
Lots of women commented that drunk male hecklers made them feel uncomfortable
One woman felt like women didn't support the choir as they left before the end of the rally
 Ideas to improve for next year
We could have a meeting point for 'singles' that one steward stays at until the march starts
There could be speeches at the start of the March
There could be a dedicated coordinator for chants
There could be more stewards and a more thorough plan for emergencies, including a March observer who takes details of any incidents.
Drummers could walk slower and give breaks so chanting can be heard more clearly
A leaflet could be created and handed out to passers-by
It would have been good to have a couple of CP officers with us
Make end point somewhere people will see us and hear us! Felt a bit anti-climactic, with no passers by
Lovely feedback from a participant 
"Thank you for letting me be a steward on Saturday night for reclaim the night. It was an amazing experience and I am so happy that I did. I think that you guys are working for an amazing cause that is creating a very positive and empowering experience for all women old and young. I can't believe how many people came out to support it and all ages were there which shows how much of an impact that this cause has for people. I know from personal experience that to be able to do that after going through a tough time and feeling scared when walking around on your own either in the day or at night, it is such a positive and empowering thing to do. I just wanted to thank you all so much because everyone both stewards, samba band and people participating are all so welcoming and amazing."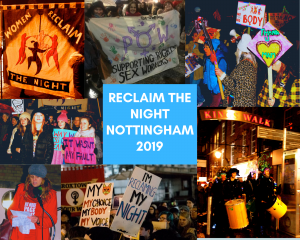 Photo credits: Juno Women's Aid and Anna Wels
If you have any further comments or feedback, please email [email protected]